Chinese Ambassador to Canada, H. E. CONG Peiwu Published a Byline Article Titled Chinese Modernization Presents New Opportunities for Canada on the Official Website of Canada China Business Council
2023-08-23 17:45
On August 21st, Canada China Business Council published on its official website a byline article titled Chinese Modernization Presents New Opportunities for Canada by the Chinese Ambassador to Canada, H. E. CONG Peiwu. Here is the main text: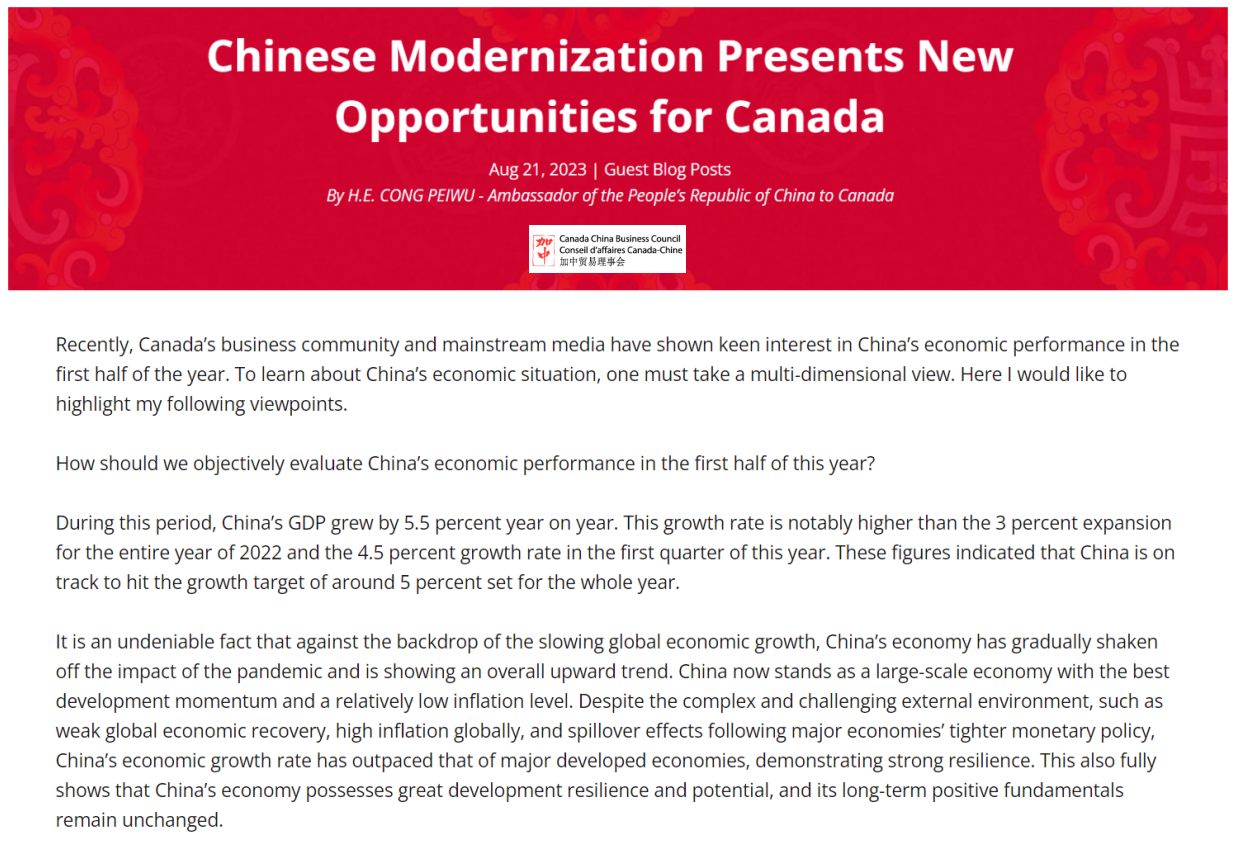 Recently, Canada's business community and mainstream media have shown keen interest in China's economic performance in the first half of the year. To learn about China's economic situation, one must take a multi-dimensional view. Here, I would like to highlight my following viewpoints.
How should we objectively evaluate China's economic performance in the first half of this year?
During this period, China's GDP grew by 5.5 percent year on year. This growth rate is notably higher than the 3 percent expansion for the entire year of 2022 and the 4.5 percent growth rate in the first quarter of this year. These figures indicated that China is on track to hit the growth target of around five percent set for the whole year.
It is an undeniable fact that against the backdrop of the slowing global economic growth, China's economy has gradually shaken off the impact of the pandemic and is showing an overall upward trend. China now stands as a large-scale economy with the best development momentum and a relatively low inflation level. Despite the complex and challenging external environment, such as weak global economic recovery, high inflation globally, and spillover effects following major economies' tighter monetary policy, China's economic growth rate has outpaced that of major developed economies, demonstrating strong resilience. This also fully shows that China's economy possesses great development resilience and potential, and its long-term positive fundamentals remain unchanged.
Foreign trade has shown considerable resilience. In the first half of the year, China's total goods imports and exports exceeded 20 trillion yuan, with a year-on-year growth of 2.1 percent, maintaining its position as the world's largest trading nation in goods. It has also come to my attention that some mainstream Canadian media outlets are highly concerned about China's import and export growth rates. In fact, this directly reflects the impact of a weak global economic recovery on the trade sector. However, it is crucial to acknowledge that China boasts a comprehensive industrial system with well-established supporting facilities, strong industrial organizational capacity and a resilient supply chain. These factors provide a solid foundation for the development of foreign trade. Relevant data indicate that China's major ports have seen growth in foreign trade cargo and container throughput, with the actual imports and exports remaining relatively active. This dynamic and robust characteristic of China's foreign trade is expected to persist throughout the second half of this year.
Foreign investment has remained stable in scale. In the first half of this year, 24,000 foreign-invested enterprises have been established in China, marking a growth rate of 35.7 percent. While UNCTAD's World Investment Report 2023 indicates that global foreign direct investment is facing downward pressure this year due to various factors, investments from developed countries such as France, the UK, Japan, and Germany in China continue to grow. Executives from dozens of multinational companies, including US's Microsoft, UK's Rio Tinto, Saudi Arabia's Saudi Aramco, and France's LVMH have visited China in the first half of the year, seeking to share the benefits of China's development.
The real estate market in China has been gradually stabilizing. For some time, many people have been closely observing China's real estate market performance. In the first half of this year, the total sales of commercial buildings increased by 1.1 percent, indicating an overall stable trend in the real estate market. Going forward, China will move faster to build a housing system featuring multiple suppliers and various channels of support that encourages both housing rentals and purchases. Additionally, China will also timely adjust and optimize real estate policies for the steady and healthy development of the real estate market.
Recently, major international organizations have raised their global economic growth projections, and China's economic recovery with an upward developing trend is a crucial contributing factor. China's resilience and vitality in its economy have sent positive signals to global growth. I believe that China has the conditions and ability to achieve its economic and social development targets for this year, thereby continuing to provide a significant boost for the stable growth of the global economy.
Chinese President Xi Jinping stressed, Openness is a key driving force behind the progress of human civilizations and an intrinsic path toward global prosperity and development. China will adhere to the fundamental national policy of opening-up to the outside world and steadfastly pursues a mutually beneficial strategy of opening-up. I believe that Chinese modernization will create new cooperation opportunities for other countries around the world, including Canada. From January to May this year, Canada's goods exports to China reached 13.4 billion Canadian dollars, showing a 35 percent increase compared to the previous year. In the first quarter, Canadian investment in China amounted to 780 million Canadian dollars, up by 184.2 percent year-on-year. At the same time, the Canadian side also should provide a fair, just, transparent, and non-discriminatory business environment for Chinese companies. This is how our two countries can truly engage in mutually beneficial and win-win economic and trade cooperation.